The EoC world is here today
Participation, wishes and greetings to the newly born business park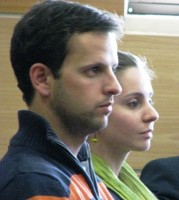 There were many messages addressed to the Giosi Business Park on the day of its inauguration. The whole EoC world would have liked to be present to share the joy of this important step for the EoC in Portugal, and in a certain way, it is really was. The most awaited message was that of Maria Voce, Emmaus, President of the Focolare Movement. She concluded saying, "Special wishes for the Giosi Business Park. May it be always more a beating heart for all the businesses in Portugal so that the culture be more visible - meaning sharing, solidarity, support - and therefore give an answer of love and relief to many people in their suffering. Everything will aim at contributing to the realization of universal brotherhood."
From the Spartaco Business Park in Brazil, they wrote: "We are with you in this in historical moment of the inauguration of Giosi Business Park. Without a doubt, God has saved a special grace for you in this foundation moment, in which you have answered him with the courage and strength of pioneers. We can imagine Chiara's joy in seeing here on Earth, little by little, the concretization of God's plan for the EoC."
With the Lionello Bonfanti Business Park, we were able to have a direct video link through Skype at the end of the afternoon, and it was a wonderful surprise. It was an emotional moment for those in Italy, in Burchio - Eva Gullo, President of the Business Park, with other entrepreneurs - as well as for those who were at the inauguration in Arco Iris. "We are very happy to be connected with you today to express all of our joy and happiness for the inauguration of your business park, Giosi Business Park. We first of all want to thank you because you have accepted the challenge of committing yourselves to such a large and important work, that of helping a business park come to life. Your actions strengthens us here in Italy as well, and it strengthens the network of business parks in the world, pushing us to be even more active, concrete, faithful and radical in the Economy of Communion project, within and outside the business park. Starting today, we know that we are doing this together with you, and this gives us support and happiness. When a business park arises in a country, it is not only for the good of that territory or that country, but it is a concrete fact, a living reality that contributes to the common good of the world. As soon as possible, we want to start working together with you and making cultural and economic connections between us. We are at your complete disposition for all that we are able to do and can do for you. Thinking about this conference call, one of the entrepreneurs at the business park reminded me of a phrase that Chiara Lubich said here at Lionello Business Park before it had begun, when it was still a project. She said, 'A light in the midst of the darkness, as small as it is, can be seen even from far away'. So we want to tell you that here, in Italy, we see your light! We are illuminated by the light that comes from Giosi Guella Business Park in Portugal, and in this light, in the vast array of light that guides us and sustains us. We send a big embrace to everyone. We send our heartfelt thanks, because you are there, and our biggest wishes for all that you will do."