In the small town of ArcoIris, 45 km from Lisbon, the Portuguese EoC Business Park "Giosi Guella" is born
Inauguration of "Giosi Guella" EoC Business Park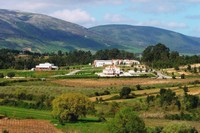 November 6, 2010, 15:30
EoC - Giosi Business Park
Small town of Arco-Iris
Vale Menriço
2580-059 Abrigada (Alenquer)
In 2000, a group of EoC entrepreneurs together with some friends of Arco-Iris bought a piece of land adjacent to the small town, with the goal of building an EoC business park there. Chiara Lubich gave it the name "Giosi Guella Business Park", after one of her first companions, and construction for th business park began in 2003. On November 6, 2010, Giosi Guella Business Park will finally be inaugurated, and this "dream" will become a reality.
See invitation
See map
There are three businesses operating in Giosi Business Park. ECNAL, a firm that does business consulting on various levels - quality, environment, security and property management - was the first business to be headquartered there in 2008. Instead, two other businesses have started operating there just two months ago: SAGEC 18-20, which offers accounting and work medicine services, and REDCAP, which works in recycling plastic and cardboard.
The moment of the inauguration will be preceeded by a morning formational gathering for entrepreneurs, beginning at 10:30. There will be a presentation of the figure of the EoC entrepreneur , as described by Chiara Lubich in 2004, and life experiences from some EoC entrepreneurs. Finally, Luigino
Bruni will answer questions of those present.
After lunch, at 15:30 in the Mariapolis Center of Arco-Iris, Luis Filipe Coelho will present the history of the business park, economist Manuela Silva will give a presentation on the EoC project, and two entrepreneurs will be interviewed. Then, the actual inauguration will take place in the presence of the mayor of Alenquer. The business park and business showrooms will then be open for visits, and refreshments will be served for all.
The inauguration of a business park is always an awaited day...as well as a new starting point for the
Economy of Communion in a nation. Abrigada, where Arco-Iris and the business park are, means "protected" in Portuguese. It's called so because of the mountain of Montejunto that protects it from the winds. On top of that mountain, radio signals are sent to spread news and to connect all the surrounding countries. We would also like that, one day, this business park "protected" at base of Montejunto will quietly spread a new style of life, renewed by the Gospel, that will form new men and women towards a society that has universal fraternity as its goal.