We asked Sr. Alessandra Smerilli, of the Salesian order, and a member of the organizing committee of the Social Week, her impressions on her experience i

n Brazil.
Speaking of economics and converting to love
Alessandra, you've had some very strong impressions from the experience in Brazil. Can you share some of them with us?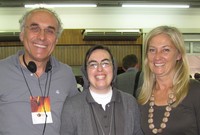 Coming back from Brazil I had one recurring thought: the EoC has not lost its mark in history. Rather, it is proving to be a real lighthouse for the whole world. Hearing how the themes resounded with different notes yet all in harmony truly made an impression on me. I believe that this is typical of the work of God. Even the fact that it talks about economics demonstrates that it is indeed a work of God. And the people are converted to love. During the breaks and in times it was possible to exchange ideas and share experiences, I heard many people including entrepreneurs, scholars, students, etc. saying they understood that they had to love more. They all said they could do something more. Everyone felt this desire to give everything. 
The atmosphere was filled with joy and celebration. I was particularly moved by the pact of unity and mercy we did altogether during the Mass on Saturday evening. It seemed as if the Holy Spirit and Mary had invaded the Church.
The theme you spoke about during the Assembly was entitled "EoC as a way of renewing the Charismas." What is the relationship between charismas and the EoC?
After my presentation (I really appreciated the fact that many of the participants came to thank me personally after) a professor from Chile asked me, "What is the relationship between Don Bosco and the Economy of Communion? There and then I simply thought that without Don Bosco and all the other social saints of the 1700's and 1800's, there would not be the Economy of Communion. (In the video of the EoC launch, Chiara reminded us that each charisma is born, not in opposition, but in continuity of what already exists.) The EoC has been prepared by a ferment of social charity which rendered the soil fertile. On the other hand, I believe that without the EoC which is born out of the charisma of unity, many charismas risk not being able to overcome today's challenges. They will not be able to re-launch their work at a time when we are called to bring together efficiency, effectiveness, communion and mission. This is what the EoC has in its DNA. It can be shared as a treasure to many others.