Panel 2 "Development and Poverty", May 27, 2011. A report on the whole presentation by Teresa Ganzon, CEO of Bangko Kabayan, Philippines
Applying the principles of EoC from a Microfinance persepective
by Teresa Ganzon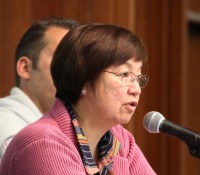 One of the most popular interventions in the field of poverty and development today is microfinance. It has gained popularity especially after its foremost proponent, Mohammed Yunus, alongside the bank he had established, the Grameen Bank, were jointly awarded the Nobel Peace Prize in 2006 "for their efforts to create social and economic development from below".
Though the most commonly known aspect of microfinance is credit, specifically credit for business purposes, the broader definition is really all about access to financial services by the low income groups and includes savings, insurance, housing and educational loans, to name a few.
To deliver these financial services to the poor or mass base though, can be quite costly in terms of manpower, both in servicing the clients as well as processing thousands of small transactions daily. The systems have to be in place to monitor each transaction, each client, on a weekly basis – to ensure that the money loaned out went to a productive purpose and to keep a constant reminder to the clients that they had to set aside a committed sum ever day or every week – in order to pay back the loan extended to them. It is because of these costly interventions that credit delivered and collected in small, numerous doses necessarily carried high interest rates in order to be sustainable.
The genius of Yunus though, lay in the fact that he not only showed the world that lending to the poor was viable. The example of the growth of Grameen Bank into the conglomerate that it is today in Bangladesh (being a major partner in the largest telecom in the country and other allied undertakings) also showed that lending to the poor could be a very profitable business. And while the early followers of microfinance were NGOs involved in development work and were therefore very clear in their objectives in helping their client-beneficiaries, over time, different kinds of financial institutions – ranging from small private lending companies to commercial banks who began acquiring rural banks engaged in microfinance – entered the game with no clear social objectives but merely for the attractive margins the product could generate.
Today, much concern has been surfaced about the commercialization of microfinance and its ill effects on the very people it was created for. The "cult of scale" or rapid expansion pursued by some players has sacrificed quality of service, cutting corners in training of account officers and employing harsh collection methods in place of educating the clients and instilling discipline in them for long-term sustainability. The advent of big MFIs entering the stock market has, per force, introduced the element of ROI as expressed in financial terms for the market.
Competition has also led to client over-indebtedness and credit pollution so that the benefits of microfinance are today being questioned (unfairly, in many cases) by some quarters, for political reasons or otherwise, and some governments are going the extreme in their attempts to regulate the MFIs.
This is not to say microfinance is not beneficial. We cannot ignore the individual stories of the millions of women and families for whom access to financial services has become an anchor for stability, growth, even transformation and empowerment, not only for themselves but for their families and even communities.
Can the EOC offer something to the microfinance sector and the practitioners who genuinely want to achieve their development aspirations through the provision of financial services designed for the marginalized in society?
How might the EOC principles serve as a guide towards microfinance remaining focused as a development intervention?
Allow me to go back to some of the characteristics of "development in communion" as Francesco mentioned:
1.    The pursuit of  integral development of the human person at all times – meaning to go beyond merely providing  financial services and to channel back some of the margins towards social organization and the building of fraternity – between the MFI staff, the clients and the community.
Despite pressures brought about by competition, BK as an MFI has chosen to pursue group organization in the delivery of microfinance, even as it also offers an individual MF facility. Building a cohesive group that will foster solidarity amongst its members to the point of each one willing to help the one unable to settle her obligations when emergencies arise – is not only arduous but expensive. Initial and continuous training of an account officer who is also social organizer is not only expensive – but truly challenging.
But the result is being able to establish deeper relationships with the clients and approximating the spirit of the family with the centers. Young account officers have developed a commitment that surprised even themselves.…travelling long distances, walking under the elements, week after week, in order to meet their clients, facilitate discussions, share new technologies, encouraging them while reminding them of the discipline of repayment and responsible handling of resources. In the general assemblies we have held as a company through the years, it is almost always the microfinance account officers that come up to share how they have found meaning in their lives while working for the bank.
2.    Adopting a mental framework that we do not "work for" but "work with" those we seek to help.
Looking at our clients as clients and not beneficiaries is a way of avoiding lapsing into a paternalistic attitude towards them. At all times, we emphasize that it is the business that our microfinance clients give us that contribute to our earnings as an enterprise. And therefore, like any valued client, we have to listen to them, understand their needs and continuously develop products that they demand.
We developed educational loans and micro-housing loans as responses to needs our clients expressed during focus group discussions. We are kept on our toes in the effort to remain relevant in their lives and able to provide the services they seek.
Working with them also means making them part of the over-all effort to develop others after they have been helped themselves. Some mothers, experienced microfinance leaders, undertook training and also conduct entrepreneurship classes which help the others open their eyes to more livelihood opportunities. Or how to grow their microenterprises more. We aptly call them our CDOs – Community Development Officers, partners of Bangko Kabayan in promoting growth through entrepreneurship at the village level.
Center leaders also provide leadership in their respective barrios or communities and local church as being a microfinance client has also exposed them to other communities and actions that have helped them develop their leadership qualities.
3.    EOC as a model open to all
Certainly, the principles of communion, solidarity, financial inclusion are cornerstones of microfinance as well.  Our experience with our clients from low-income groups has proven that each person is capable of sharing – their time, their talent and yes, even their hard-earned and small financial resources when the occasion arises – with their co-members in the groups or centers. What may begin as a contractual relationship with the bank, ripens to a trust relationship over time. Reciprocity is established as the microfinance clients have proven to be the base of mass support for the bank in the community, ensuring not only its survival but its growth as well.
In summary, there is much the economy of communion can contribute to an established development intervention such as microfinance in terms of maintaining clarity of vision and mission, underlining "working with" the disadvantaged and avoiding the paternalistic stance and contributing to an over-all goal of solidarity, beginning with the smallest unit of community they belong to.