Panel 1 "Entrepreneur and business", May 26, 2011. We report the entire intervention by John Mundell, president of Mundell & Associates
The Importance of Working in and for Communion in the Economy of Communion
By John A. Mundell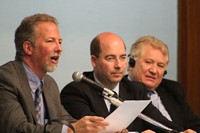 What I want to share today are some practical perspectives on the Economy of Communion that may be of special interest to my fellow EoC business owners here at this meeting. If someone would ask each of us: "How does an EoC business operate?" they would likely get a slightly different answer from each owner. This was one of the dilemmas we faced when we began writing the new General Guidelines for Operating an Economy of Communion Business that we will discuss in the next several days in our afternoon working groups.
What is 'it' that makes us so unique or so different from a typical business? Perhaps this question leads us to a more important, more fundamental question that I ask myself at the end of each week as a personal 'examination of conscience': "Is our business really an Economy of Communion company?"
The answer might at first seem obvious. Some of us business owners might respond: "Well, yes, I'm here at this congress, and I'm on the EoC business list, and I've even shared some of my profits with those in need." However, the real answer requires us to consider something that Chiara Lubich reminded us of from time to time (I will paraphrase here): We are truly part of the Focolare Movement only when we love with a love that has no limits. Or, said in a negative way for emphasis (with my words, and not Chiara's): .…and we are not a part of it when we don't love with a love that has no limits. So, perhaps we could also say for our meeting here: We are truly part of the Economy of Communion only when we work 'in communion' and 'for communion', and we are not, when we don't.
Working In and For Communion
So, what does it mean to work 'in communion' and 'for communion'? What does it 'look like'? 'In communion' denotes both an 'action' and an 'attitude': the 'way' we work when we work. 'For communion' denotes a 'purpose' behind the action: why we work, the intent behind our activities. And so, two good businesses could appear to perform exactly the same 'outward action' by producing the same tangible product (e.g., tennis shoes, cookies, perfumes, hair products).
The first company may do good work and offer a good product – its job is done! But the EoC company must maintain an atmosphere of communion as it works, and produce communion as a result. If it produced a good tennis shoe but did not produce communion, it is a noisy gong or a clanging cymbal, and it is not an EoC company! (note: it is by far better to produce communion and fewer tennis shoes!).
This is an important point, because one of the distinguishing characteristics of our EoC business lifestyle is the fact that behind each moment of each business day, an EoC business owner tries to live with a continuous awareness of the other person, in order to create and maintain a workplace and business of communion. There are many, many business owners in the world, and many socially‐responsible companies that do 'good works' with 'good hearts'. But that alone, for us, is not enough. We desire an added dimension, an intangible but nevertheless real product: communion.
Each one of us – business owners, employees, advisors, and interested academics – must examine this idea of working in and for communion, and I would ask you to look at it with me on three levels:
1. On the business level ‐ that is, within the company, between the employees and those who support the business operations, between the company and its clients, between the company and its competitors, and between the company and the daily mail carrier.
2. On the local community level ‐ within the local geographic area where the business operates, including the local Focolare community; and
3. On the global level ‐ within the world community, including the global Focolare community.
I would like to say a few things about each of these levels.
Communion within the Company
The first of these levels of working in communion – within the company ‐ is the one that hits us business owners 'right in the face'. It is the everyday happenings; the 'hustle and bustle' of operating the business; the managing of relationships between everyone within the company, and with everyone who works directly with the company.
It is the daily demands and unexpected events that must be worked through to make the business productive and function as it should. In some ways, this is the most significant 'communion level' for a business, because it is the true 'testing ground' for living the life of the EoC. We must give attention to working in and for communion within the business, so that the business may develop the capacity to go out 'beyond itself', to grow and to achieve long‐term economic sustainability. A company that cannot sustain itself and its workers cannot contribute to the ongoing mission of the EoC.
Within the company, the starting point of all of our efforts must be to continually convert ourselves to this 'new' mode of business operation. And, as Chiara often reminded us: before everything else, we must 'be and live' before we speak. Our choice to live a business lifestyle of communion means: being the first to reach out and demonstrate care or concern for the other, treating everyone with equal care and respect no matter what position they hold or how they impact the company, demonstrating our concern and care for others with concrete actions; and sharing the others' challenges and successes as if they are our own.
This 'Art of Business Management' you may recognize as coming from the 'Art of Loving' which Chiara gave us and the Focolare promotes, but now we apply it in our day‐to‐day business operations as an owner or an employee of a company.
What does this 'Art' look like in our companies? It may take the form of helping a colleague complete an unexpected task with a deadline; of providing a comfortable work environment for our employees; of treating everyone fairly; of allowing periodic breaks in the work schedule to reduce stress; or of controlling the amount of overtime someone is asked to work. It may mean encouraging clear and consistent communications among everyone, to foster open and honest dialogue. It may also mean planning and finding time for 'non‐productive' office activities that foster teamwork and build relationships – from birthday celebrations, to picnics, to after‐workentertainment events.
So what does this lifestyle of communion compel us to do?
‐ To consult with others when making decisions.
‐ To listen. To really listen.
‐ To consider everyone else's ideas as I consider my own.
‐ To share, daily, moment‐by‐moment, with those who are placed next to us.
‐ To share work responsibilities with everyone according to their abilities.
‐ To go beyond our own egos and to be willing to give our lives for the others.
Working in communion reminds us that the best work comes from 'the group' and not from 'the individual', and that only if we are ready to 'lose' our ideas, will we be able to find 'the' idea that is best for the everyone and for the company. And so, our biggest challenge to work in communion within the company is ‐ ourselves.
These are all things that focus on supporting a healthy 'internal' office atmosphere. In a small startup company with just a few people, the entrepreneur's individual efforts to live the values of the EoC are easily seen by everyone and they directly impact all operations. Flexibility in the handling of employee‐specific circumstances exercised by the owner and a willingness to consider case‐by‐case situations contributes to the creation of an atmosphere of communion, just like in a family.
However, as a company grows, its operations become more complex and the owner has less flexibility in responding to varying circumstances. The owner is no longer able to follow every detail, so he/she must delegate some authority and decision-making to others. Then, the owner must closely follow these delegations so that, through them, the intangible goals of the EoC remain intact and the values of the EoC stay at the forefront in all decisions.
In this stage of the EoC business, this likely requires the development of training programs that teach EoC principles and integrate its values into all aspects of the business: administrative, production, accounting and finance, sales and marketing, and human resources procedures. In this way, the EoC atmosphere permeates the company at all levels. Our ideal is an EoC company where everyone knows and understands its values and freely chooses to live them. To effectively achieve this is one of our greatest challenges going forward into the future. However, we must meet this challenge to assure the sustainability of the EoC culture as a company grows, as its management expands, and even as the founder retires and is replaced by others.
Communion with the Local Community
A second level of working in communion – within the local geographic community – develops gradually over time. As it develops, it affects how the business is seen by all who come in contact with it. Any business, whether it wants to or not, influences ‐ for good or not so good – people and businesses outside of its regular operations. The idea of spreading the 'culture of giving' by the business' example begins at this level. When the employees of the EoC business understand that the company is not only interested in itself, they begin to see its wider mission, as part of a community.
For example, when we purchase company supplies from nearby businesses and eat at local restaurants, even when it might be cheaper elsewhere, they see that we value 'relationships' more than 'monetary costs'. When we give them time to help in local social projects in our neighborhoods, they see that it is not all about profit, and they experience a new world, where everyone gives and receives. Becoming part of the community changes attitudes within the company; giving back to the community evangelizes everyone within the company. These changes are both personal and company‐wide, and when they become visible to the community because they are real and mutual, they can show other business owners and community members a new way forward to a more authentic and close‐knit community. The culture of giving begins to spread beyond the business, and manifests itself in small and not‐so‐small ways.
These 'local' relationships must also extend in concrete ways to other EoC companies in our countries, and to others we know within the Focolare. This might mean purchasing products and services from other EoC businesses or Focolare people when possible, which begins a string of 'win‐win' situations that helps both ends of the transaction. It surely means a commitment to relationships such as staying in contact with other EoC business owners through emails, lunches, SKYPE calls, or meetings.
I can't tell you how important regular, deep sharing of our 'souls' with other EoC entrepreneurs is! This is one of our 'secret weapons' of sanity! We can help one another to face successes and failures, resignations and firings, financial disasters, anddifficult clients. In our EoC neighbor, we find someone who chooses to 'love your company as his/her own'. This 'special' relationship gives us the strength and courage to persevere in difficult times, and to persevere in both business and in communion. There are many financial and business advisors in the world (and we need them). But the EoC entrepreneur is a rare breed who can offer advice and support in living out our ideal to produce our intangible product: communion.
The practical wisdom of Chiara in calling for the development of business parks next to our Focolare little cities is immense, since communion lived among the businesses is not some nebulous, idyllic concept, but a true, lived, concrete and essential reality that grows deeper and deeper as we engage more and more with each other in the daily happenings of our businesses. Proximity to other EoC businesses also leads to some very practical sharing of resources: from printers and computers, to conference rooms, internet connections, and emergency office supplies.
Finally, it should be said that we also need to pay special attention to our first 'immediate community' – our own families. Being an entrepreneur and maintaining a healthy 'work‐life' balance is a difficult and challenging task. Sometimes it demands extremely hard work, great creativity, long hours, and supreme personal sacrifices to carve out the time needed to meet our business responsibilities and maintain strong relationships with our spouses, children, family members and friends. Oftentimes, these tough decisions create high levels of stress, leaving us feeling lonely and isolated and forcing us to consider: 'What does it all mean?" The EoC lifestyle calls for each of us to continually evaluate the large and small choices we have to make, balancing between 'family' and 'business', and trying to determine what is right for each circumstance. The EoC lifestyle helps us look at everyone and everything through the 'filter' of communion.
When we look together rather than in isolation, we find solutions and this process helps us accept difficult circumstances and to see that we are not alone. Difficulties and personal suffering can then be transformed into avenues of personal growth and meaning for our lives.
Communion with the Global Community
Finally, at the third level of working in communion – with the global community – we come to understand that our daily and local business operations go well beyond those of a typical business. Each of us is also a part of a global network aimed at sharing needs and resources to assist all of us to self‐sufficiency. We are in this together. We each have our part to contribute. And this resonates within each person, to respond to one of the greatest desires of humanity: to be a family. Our small role in it can at times seem inconsequential. After all, how can one company really change anything?
But then, if we allow ourselves to answer the call within our hearts to become a part of this wonderful network of communion across the planet – by sharing our profits and needs, by getting to know other companies on the Business‐to‐Business (B2B) website, or by offering EoC work internships to young people from other countries, it will open up ever wider the pathways to communion for our employees and ourselves. And, we will experience something stupendous – universal brotherhood in the making.
And this experience, resulting from the communion and 'oneness' that we have achieved, will spread the culture of giving in ways we cannot imagine and far beyond what our meager human efforts would indicate. This 'oneness', Chiara reminds us: "May they all be one…so that the world may believe", is, in fact, our greatest way to evangelize the world.
Conclusion
Being an Economy of Communion business means putting the highest priority on living a business lifestyle of working in and for communion at various levels – within the business, with the local geographic community and with the global community. This lifestyle is 'the secret' key that we offer other business owners for experiencing joy, happiness, fulfillment and a sense of purpose in life ‐ not despite owning and running a business, but because of it! It also reinforces a resolute belief in Chiara's dream: to relive the experience of the early community in Jerusalem. 'They were of one heart and mind…and no one was in need among them' (Acts 4:32‐34). This dream is still within our grasp. We need only do our part.