Today the International Assembly of the Economy of Communion began at the doors of Sao Paulo
Twenty years of EoC: Return to Brazil
By Paolo Lòriga, Correspondent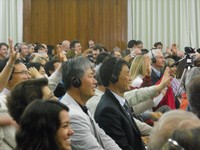 It's the same hall (although more modern), it's the same luminous May sky, it's the same natural surroundings with brilliant colors. It was right here, twenty years ago in the auditorium of Mariapolis Ginetta Calliari, just fifty kilometers from Sao Paulo, that Chiara Lubich shared an intuition. She had understood that the charism of unity had something to say, had an innovation to contribute to the apparently unbreakable international economic and productive system.
Six-hundred-fifty
have arrived here in Brazil (with a remarkable presence of young people), from
37 countries
of the world, representing the 800 businesses committed in the EoC, the eight business parks, the scholars and students of economic disciplines involved in the scientific reflection and cultural elaboration of the project. They are people who have not grown weary through the continuing economic and financial crisis. Rather, they have further conviction to innovate production basics and taken on greater responsibility for the millions of people who have fallen into poverty. 
Already in the opening of the assembly, which began today, May 25, there is joy and gratitude for this two-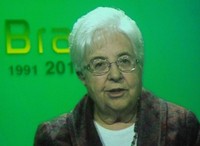 decade long journey. And there is also commotion in returning to those words of the Focolare founder, which had the same "bomb effect in the economic field", just as they did the first time. As part of the commemoration and celebration, Maria Voce sent a video message in which she did not hesitate to go back to these origins.
"It's necessary to recognize that the EoC project still must affirm itself", she said, complementing a choice made with the meeting's organizers. It was a detail, but one which revealed the foundational approach. "I think it is very meaningful that in this meeting's logo, you have chosen to include the date of 2031, to indicate a future that we can only intuit today and which will become clearer thanks to the contributions that you will continue to give."
Without glossing over anything, President Voce indicated the challenges that await the EoC, which has "the potential to transform economic life from within, and not only that of businesses but also of families, financial institutions, and economic politics." However, an important condition must be remembered: "The EoC will find new impetus if its horizon continues to be a united world, and so it will be capable of moving hearts, actions and enthusiasm of those who need great ideals for which to spend their lives." She indicated that "a new season of creativity and protagonism of all of you will come, and we will respond to a great date with history."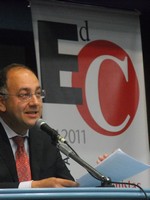 Luigino Bruni, coordinator of the International EoC Commission, also spoke of history while opening the working sessions of the assembly. He underlined the walk completed since Chiara's prophecy in the economic field. There were four words that permeated his presentation: celebration, for these twenty years; responsibility, for the task to take on during the crisis; memory, for not forgetting the basic questions Chiara asked in this hall in 1991; hope, in the strength of the project entrusted to them and the new generations of entrepreneurs and scholars committed in the EoC.
Storic flashbacks were inevitable, also for entrepreneur Alberto Ferrucci, who has been in the EoC from that first hour. He remembered the organized way that Chiara and her first companions in Trent responded to the needs of the poor in their city, showing that there is also "lay vocation to sanctity" in all that had supported the EoC, of who sold small properties, of who offered some of his savings to help buy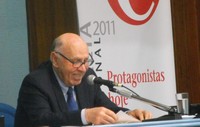 lands for the business parks, of who left great jobs and even their own cities to give life to Chiara's intuition. It was this heroism that then allowed Benedict XVI to cite the EoC in his first social encyclical.
Ferrucci placed a requirement on the work to follow: "We need to theoretically elaborate the paradigms of this new economy. We need to show business parks and businesses that put these principles into practices, as well as schools and universities that form people in such paradigms." It was significant then that before arriving at Mariapolis Ginetta, Luigino Bruni and Giuseppe Argiolas were invited to a seminar with Economics professors and students of the Catholic University of Sao Paulo. Benedetto Gui and an EoC entrepreneur spoke at the Methodist University of Piracicaba, while Swiss economist Luca Crivelli held a dialogue with 150 industrial workers and businessmen from Salvador de Bahia, who were called together by a local bank. These are prolific signs of future, which the assembly is called to project.