Interviews with the testimonies of the EoC's first 20 years
That day we landed on San Paolo
An interview with Eli Folonari
by Antonella Ferrucci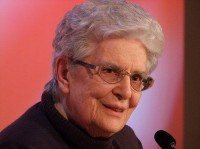 Being her closest companion, Eli Folonari often accompanied Chiara Lubich in her travels. She was in fact with her when Chiara visited the Focolare community in Brazil back in 1991, which then led to the birth of the Economy of Communion. We ask her to share some of her memories of those days.
Eli, you were beside Chiara when you landed on San Paolo so you shared those moments with her. What do you remember?
I remember that moment very well. I was with Chiara and we were landing on San Paolo. The plane was hovering over the city before it finally landed. Chiara witnesses the stark contrast between the numerous skyscrapers and the very many favelas , very poor housing, surrounding the city. She was shocked by this disparity. There are also rich and poor people in our country but there is no comparison between our society and that of Brazil. This was the impression she had when we landed.
Upon reaching our small town, she expressed her concern. Among the members of the movement, there were those who lived in these favelas. After some days, it was then that the idea, which seemed very new to me, came about.
The idea which was launched on May 29, 1991, later called the Economy of Communion...
Yes. We know that Christians should help the poor and give them what they had in excess. But no, Chiara said something different, "We have to ask the entrepreneurs to commit  to making more profits, to improve their businesses. They have to earn more to and share the profits of the business." When she had a chance to address a good number of entrepreneurs, she made this proposal which valued this work even more. Within a company, she explained, everyone should contribute and be aware of this social commitment. There should be communion within the company. There should not be a big gap between directors, employees and laborers. Each one should contribute what he/she was capable of giving. A laborer may have some skills that the entrepreneur does not necessarily have and viceversa. Chiara wanted to value each one's role in the company. Each person was called to reciprocal love in order to contribute to a better performance of the company. The earnings of the company should not be for the company alone but it should also be used for the welfare of society, especially the poor. It should be shared with those who are unable to move ahead, not because of their own doing, but due to the situation in general. She talked to them about the division of three thirds. Chiara was very concrete and went right into the practical application of this proposal.  
On the same day Chiara met a group of university students...
Chiara met the young people in the afternoon. The development of a new theory that could promote a new kind of society was entrusted to them. She asked them to commit themselves to studying and elaborating this new idea, "I will tell you an idea. You should be the ones to examine the concrete application and the advantages that it can bring both in the corporate economy and the national economy."
What were the reactions thereafter?
The new idea launched by Chiara in Brazil was communicated throughout the Movement and immediately caught fire all over the world. Just in the first year, we already had many responding to this call. There were over a hundred companies who were willing to adhere to this idea. They told Chiara that they wanted to live by this principle. Later on, we started hearing from some of the poor families, especially in Brazil and in the Philippines. They were expressing the impact of that help they received – being able to send a child to school or finding employment. In the end, they themselves would say, "We no longer need help now. We have become self-sufficient." Chiara was very moved by this. They no longer considered themselves poor and wanted to start giving themselves.