Interview with the testimonies of the EdC's first 20 years
The hand of God could be seen everywhere…
An interview with Enzo Morandi "Volo"
By Antonella Ferrucci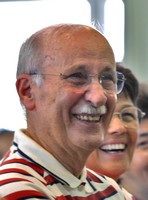 Enzo Morandi "Volo"and  Ginetta Calliari were both responsible for the Focolare community in Brazil in 1991. It was at the end of Chiara Lubich's historical visit that year that she launched the Economy of Communion. We asked him to share his thoughts on those memorable days with Chiara.
Volo, when Chiara landed in Sao Paolo, she was moved by the stark contrast between the skyscrapers and the favelas. On May 29, three weeks after her arrival, she launched the Economy of Communion. What do you remember from the days preceding the "launching of the bomb"?
I remember that every day at 4 pm, Chiara would meet all of us who were responsible of the Brazilian community. They were precious moments. Chiara shared with us everything that was in her heart, whatever she saw and whatever she felt. Those moments were recorded and transcribed. The transcriptions were then given to us at the conclusion of Chiara's three-week visit. I found them very helpful in reconstructing the series of emotions which preceded and somehow, gave way to the launching of the EoC. This happened on the second to the last day. It was a big surprise for all of us.
Re-reading these materials after Chiara had launched the EoC, you could understand that something was growing in her. Chiara spoke to us, in particular, about how a small city should be. She insisted that everything had to be born out of communion. Our spirituality is based on communion and we are faced with the temptation to transform it to something individualistic. This is true, especially now that Chiara is no longer with us. It was much simpler before when we could ask her for anything. Now, one feels the need to be guided by the unity and communion among us.
During the first days of her visit, Chiara was not feeling well and felt a certain physical discomfort. Do you see a connection between this uneasiness and what transpired after? Do you consider that discomfort as some kind of "labor"?
I would not know...I remember that she was not feeling well during the first few days and that the trip had caused a certain discomfort. She recovered after some days and if I remember well, she even extended her visit by one week. We all know what happened after…

Why did Chiara think of establishing the Industrial Parks alongside the small cities of the Movement?
Because they had to represent that spiritual reality characterized by living together in a small city. Even if
the Industrial Park is a lay structure, composed of people who are part of society, it is linked to the small city. In fact, those responsible of the small city were concretely involved in the meetings with the administrators of the Industrial Park. They were not there primarily to intervene in corporate decisions as this was not their competence. More importantly, their presence ensured the culture of unity, fraternity and communion.
Do you remember how the idea of the three thirds came about?
The idea of the three thirds was a "bomb". I remember being in front of Chiara when she launched the Economy of Communion, and we were surprised. Even if on one hand, we felt that this was the answer to a need for social justice, it still came as a big surprise. Since our arrival in Brazil in 1959, we have always felt the need for communion, so this was something deeply rooted in our experience.
What do you remember about "We are poor but many"?
I remember that Chiara felt the strength of the EoC was the fact that in Brazil, there were tens of thousands of people who shared this determination. They would have been willing to give their own personal contribution. The EoC was not a strategic plan that came out of a timetable. It was born out of life. It was this "being many" that made it possible to collect the first "shares" leading to the construction of the Spartaco Industrial Park, home to the first EoC enterprises.
In conclusion, what do you remember about what happened when Chiara left?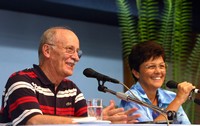 Along with the great joy we felt, I remember there were feelings of uncertainty as well. Chiara had launched something great and it was now our turn to make it happen. At the same time, if Chiara had entrusted us the EoC, we could only be certain of God's help. When Chiara had left, we decided to form different commissions. The first commission would determine what form of company the Industrial Park should take – that which resembled what Chiara had envisioned. We decided to put up a corporation. The second commission was tasked to find the land near the Maripolis where the Industrial Park would be built.The search for this piece of land proved to be challenging. The surrounding area of the Mariapolis was hilly and was not suitable for an industrial building. After having seen different terrain, it became discouraging as the feat seemed almost impossible. However, I recall having assured the people who had this task, "Let's all have faith. You will see that the land is ready and is waiting for us." At some point, we went to see another piece of land. Upon seeing it, I realized it was the right one. It was perfectly flat and was originally prepared for a multinational pharmaceutical company which later decided against building upon it. It seemed like it was really meant for us. Through a series of small yet extraordinary steps, we were able to acquire the property. Before buying it, we checked with the city hall if we could build an industrial structure on the land. After the acquisition, the same engineer who assured us that we could build an Industrial Park, came to us worried. He had just learned of a new law prohibiting the construction of such industial sites within a certain radius from the river. Unfortunately, the land fell within the prohibited area. We were shocked. We had already bough the piece of land and we could not use it as an Industrial Park! Then I thought to myself, "It's not possible that God would have made us go through all this trouble and not see things to completion." In fact, some time later, the law would change. The interesting point here is that had we known of that previous law, we would not have bought the land. It all seemed like "God's trick" to make us buy the land. There were many other incidences of this kind that took place. The "hand of God" could be seen everywhere. It was something that always left us in awe.