Sponsor the Brazil 2011 events!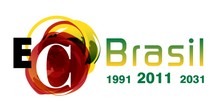 Does your company adhere to the Economy of Communion? Would you be interested in supporting the 20th anniversary events in Brazil?
While your company may not yet be part of the EoC, would you like to discover the possibilities that the EoC may offer? Would you be willing to promote the project?
Your company may be small but would you like to gain exposure during Brazil 2011?
The possibility of becoming a sponsor of the events of Brazil 2011 is open to all, from large to small and medium scale enterprises and even to individuals. There are four sponsorship categories to choose from: Principal, Major, Supporting and Sustaining.
For more information about becoming a sponsor, please send an e-mail to:  This email address is being protected from spambots. You need JavaScript enabled to view it.
Principal Sponsor - Lead Sponsor - maximum of 3 companies  – sponsorship package valued over USD 7,090 (EUR 5.000)
- Corporate banner in the events hall, visible during the live streaming
- Electronic banner on the EoC website including the corporate logo and a hyperlink, in prominent, lead level position 
- Corporate logo and acknowledgement as Principal Sponsor on all printed promotional materials  (The deadline for the submission of materials is on 15 April 2011)
- Corporate logo prominently displayed on the monitor during the events
- Acknowledgement as sponsor in all press release announcements
- Reference to Principal-level sponsorship in post-event thank you letters
- Distribution of promotional materials to all the partcipants of the events 
- A stand to exhibit corporate marketing materials
- Two (2) complimentary admissions to the Assembly and five (5) complimentary addmissions to the Open Day
Major Sponsor – maximum of 10 companies – sponsorship package valued between USD 1,000 (EUR 720) to USD 7,089 (EUR 4.999)
- Electronic banner on the EoC website including the corporate logo and a hyperlink, in prominent position
- Corporate logo and acknowledgement as Major sponsor on all printed promotional materials (the deadline for the submission of of materials is on 15 April 2011)  
- Corporate logo prominently displayed on the monitor during the events
- Acknowledgement as sponsor in all press release announcements 
- Reference to Major-level sponsorship in post-event thank you letters
- A stand to exhibit corporate marketing materials
- Two (2) complimentary admissions to the Assembly and two (2) complimentary admissions to the Open Day
Supporting Sponsor– maximum of 25 companies   – sponsorship package valued between USD 250 (ERU 180) to USD 999 (EUR 719)
- Electronic banner on the EoC website, including the corporate logo and a hyperlink 
- Acknowledgement as sponsor in all press release announcements 
- Reference to Supporting-level sponsorhip in post-event thank you letters
- A stand to exhibit corporate marketing materials
- One (1) complimentary admission to the Open Day
Sustaining Sponsor – csponsorship package valued between USD 100 (EUR 72) to USD 250 (EUR 179) 
- Website listing of corporate or individual donors