Sao Paulo, 29th of May 2011, the culminating day of Brazil 2011
"Prophecy makes history. Twenty years of the Economy of Communion"
May 29, 2011
America Latin MemorialAv. Áuro Soares M Andrade, 564
Barra Funda (Sao Paulo)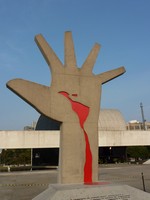 On the occasion of the Economy of Communion's 20-year anniversary, the Latin American Memorial plays host to the highlight event called "Prophecy makes history. Twenty years of the Economy of Communion." The event, which is open to the public, marks the end of the four-day assembly of the International Commission of the EoC.
It will be a chance to celebrate together the first 20 years of the project. The new guidelines resulting from the preceding days of the assembly and the EoC's objectives for the future will also be announced.
Download the invitation in Portuguese
The speakers of the day include, among others, Stefano Zamagni, Vera Araujo and Luigino Bruni. The event is open to the public: to entrepreneurs, scholars, employees, and all those who are interested, in one way or another, to take part in the project. It is necessary to register using the online reservation form in order to join. Apart from the online reservation, the link contains all the necessary logistical information to participate in the event. Registrations made by May 20 are entitled to a discounted rate equivalent to 50% of the full registration fee. Registrations made after this date will be charged the full price.
Please note that this reservation form is for those who intend to take part ONLY on this last day. Those who would like to participate in the assembly as well should make use of the link found on the article regarding the assembly.
We encourage everyone to join!