Promoted by the Archdiocese of Crotone - St. Severina, in collaboration with the Economy of Communion and the support of the Review and Organization Committee of Settimana Sociali dei Cattolici Italiani
The Mediterranean School of Civil Economy and Economy of Communion is Underway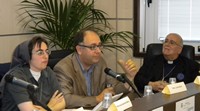 With the convention, "Good wins - Forming oneself through signs that make dreams come true", held last June 5, 2010, in conference hall of Crotone´s Chamber of Commerce, the Mediterranean School of Civil Economy and Economy of Communion became a reality. Around 150 people coming from different parts of Calabria and Sicily took part in the meeting.
The school was strongly encouraged by His Excellency, Mgsr. Domenico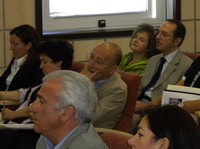 Graziani, Archbishop of Crotone - Santa. Severina. It aims at contributing to people´s formation in the culture and governance of businesses and idealistically motivated organizations - those organizations, associations, NGOs, businesses in which the inspiring motive (or that which inspired its creation) is neither primarily profit nor exclusively instrumental elements but an ideal motive, a mission or a "vocation" that, in various ways, arises from the intrinsic motivations of its promoters. It´s a project that considers profit "and instrument for bringing about human and social goals" (Benedict XVI, CIV n.46) and promoting the business as protagonist in creating the common good.
Geared towards students, young (or less young) entrepreneurs and workers that want to go know more about the economy and doing business in the light of civil economy and the economy of communion, the school offers the following program:
1st Meeting
Archdiocese of Crotone - Santa Severina, October 7 and 8, 2010
Luigino Bruni, Giuseppe Pintus, Irene Giordano, Fabio Bruno
"Civil Economy, Business and Work"
2nd Meeting
Archdiocese Crotone - Santa Severina, November 26 and 27, 2010
Alessandra Smerilli and Ivan Vitali
"Idealistically Motivated Organizations and Cooperation"
3rd Meeting
Internships at the Polo Lionello Bonfanti, Loppiano (Incisa in Val d'Arno, Florence), January 5, 6, 7 and 8, 2011
4th Meeting
Archdiocese of Crotone – Santa Severina, March 24 and 25, 2011
Eva Gullo and Alberto Frassineti
"The Mission and group work as instruments for the organization and management of a business"
5th Meeting
Archdiocese of Crotone – Santa Severina, June 24 and 25, 2011
Giampietro Parolin and Elisa Golin
"Various Dimensions of Strategy and Budget"
6th Meeting
Calabria (place to be defined), around July 24 to 31, 2011
Summer school
Participants of the school are also offered the following possibilities:
-Internships in businesses or organizations in other regions, limited to the number of available positions offered;
-Business ideas: teachers and experts will be available to evaluate feasibility plans of entrepreneurial projects elaborated during the school;
-Career counciling: for those participants who wish, there is the chance to build one´s own C.V., discover how to job search, how to prepare for interviews.
To register for the school, send a registration form completed in all sections and deposit the participation fee equivalent to €250,00 through a transfer. Participants will be responsible for the costs of meals and lodging, which is not included in the registration fee. Special agreements will be made with hotels to help reduce the costs of participation. To those students deemed worthy, there are partial and full scholarships available to cover the registration fee.
There are a maximum of 40 places available in the school and the registration deadline is July 20, 2010.
For more information, contact:
Archdiocese of Crotone Santa Severina – Youth Sector Emmaus
Piazza Duomo 19, 88900 Crotone (KR)
Tel. 0962.21520 - Fax 0962.29470, E-mail: This email address is being protected from spambots. You need JavaScript enabled to view it.