Interview with Amelia Stellino, one of the school participants
From the School of Crotone, a new EoC company
by Antonella Ferrucci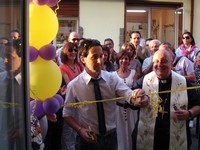 On July 3rd in Sila, Lorica, the first cycle of the Mediterranean School of Economics and Civil Communion ended. It was organized by the Diocese of Crotone and Santa Severina, in collaboration with the Economy of Communion and Social Weeks.
The best unimaginable conclusion by the organizers was the inauguration (with the presence of Mons. Domenico Graziani and Luigino Bruni), of a new EoC company at Cariati, the TL - com of Luigi Trento (which deals with alternative energy sources, monitoring technical and environmental, teledidactic systems on the network), while another is on its way for September.
A real success from the promoters point of view, since the primary purpose of this school was to contribute through formation to promote self-entrepreneurship, contributing to the growth of Calabria in the civil and communion direction. To know more about it we interviewed Amelia Stellino, who participated in the school. 
Amelia, will there be a follow up to this school?
Definitely yes: a new cycle of the school was planned and will probably start this fall. In addition, for those who, like me, participated in the first edition, moments of going in depth are expected, which is always needed on various topics.
How would you describe the people who participated in this school?
The group of participants was very diverse in age and professional backgrounds: they ranged from new graduate to retired people, as workers and employers. If this diversity has certainly made the job training more difficult, at the same time has led us to learn more about various topics, starting from different points of view.
And were you able to make a group among you?
Certainly we were able to make a group. New relationships were created with everyone, some deeper than others, but with everyone. We feel a strong need to continue finding ourselves doing things together. The idea of creating new moments of going in depth comes from this because if the company of Luigi Trento was launched right away, other initiatives can still be born and I think that it will be the group that can bring them to the next stage. The group will then be a permanent base for the dissemination of EoC information on the territory. An example: in the next Mariapolis (summer conference of the Focolare Movement) at Gambarie (RC) will have an afternoon dedicated to EoC and I will have a way to present EoC thanks to the training received at the school.
What do you take away from the experience?
One observation that came from life: when we really believe in something, then it can happen.
What you say reminds me of the title of this school…
Yes, the school was entitled: "The Good wins: Educating for signs that make Dreams," a very evocative title that gives the idea of a strong hope,
which is needed, because it lacks, especially in the areas where the everyday reality presents many difficulties. In this school we realized that together it is possible to create a business entirely in the direction of good: "to do well the good," This phrase resonated many times in these months, a phrase that is now within us; to say it and to hear it is one thing, to hear it within…