This year's first seminar on the EoC at the Lionello Bonfanti Business Park took place on April 22 at 5pm. Check

streaming here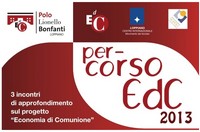 April 22, 2013 at 5pm.
Lionello Bonfanti Business Park
"Duccia" Hall
Burchio district
50064 Incisa in Val d'Arno (FI)
The three seminars on the Economy of Communion project are opened to anyone who is interested in the project and committed to participating in every meeting. Furthermore, the EoC Studies PROgram is particularly addressed to entrepreneurs and workers from the Business Park Lionello Bonfanti and Loppiano International Center (Florence).
From April to October (with summer break) the EoC companies together with Sophia University Institute and Loppiano International Center will promote various dynamic seminars. They will take place on Mondays from 5 to 7:45 pm.
On April 22 Luigino Bruni delivered the lesson: "Hierarchy and Communion in Companies"; the lesson entitled "Instruments in Companies that bring about Communion" will be held by Giuseppe Argiolas on June 3; and finally on October 7 Alessandra Smerilli will speaking about motivations, crisis and diversities in businesses.
The program is sponsored by companies from Loppiano, the Business Park and surrounding cities. They offer it to their employees, who receive up to an hour and a half of working time in order to take part in a lesson. Although the course is sponsored, autonomous participants are expected to pay a participation fee.
Participants will receive a certificate of completion. Registration is required.
Registration and further information:
EoC Spa (Inc.) Administration - Tel: +39 055 8330 400 - Email: This email address is being protected from spambots. You need JavaScript enabled to view it.
See program download registration form