The exhibition market concluded with a great turn-out of visitors to the Polo Lionello Industrial Park
The exhibition market "Come, Choose and Donate" was a success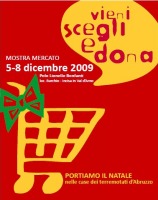 From December 5-8, the Lionello Bonfante Industrial Park opened it´s doors for the exhibition market, "Come, Choose and Donate". It was a proposal that combined economy with solidarity, involving 40 businesses of Valdarno who donated their products to be sold at the benefit of the victims of the earthquake in Abruzzo.
At the conclusion of the exhibition, we asked Paolo Maroncelli, the delegated administrator of the Lionello Industrial Park, how it went. "We´re very pleased with how things went," said Maroncelli. "Thanks to this initiative, the Industrial Park received many visitors from the surrounding area, and many of these came for the first time. They seemed happy for the chance to finally come and ´nose around´ inside the Polo Lionello."
"I don´t think I´m exagerating," said Maronelli, "when I say that at least a thousand people came through. Besides visiting the stands of the exhibition, visitors filled the other commercial environments of the industrial park, especially the bookstore, Philocafé and the "Terre di Loppiano". Many of the businesses who offered their products were present, and among the stands was that of the Gen 4, the children of the Focolare Movement, who, by themselves, were selling the music boxes they had made, and who gathered more than €500. During each of the three days, the youth of Loppiano offered a show with Christmas songs. And finally, there was an exhibit of nativity scenes. I believe that I can say that everything contributed to building an atmosphere of fraternity, which was our main goal when we thought of this initiative."
All the money collected in the exhibit will go towards rebuilding schools in the Township of San Demetrio Ne´Vestini, a small center of Aquila that was hit hard by the earthquake, and where various levels of mobilization are underway to help reopen the schools and get them back up to par.