On October 24, at the "Lionelle Bonfanti" Industrial Park in Incisa Valdarno (Florence, Italy), the group practice Risana was inaugurated. The challenge of matching person-centeredness, medical science and economic sustainability
Risana´s Bet
By Amanda Cima
Published on www.cittanuova.it on 27/10/2009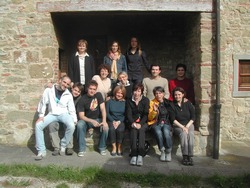 Beyond every expectation, the hall quickly filled with almost 300 people. Many were those present at the inauguration of the group pract Risana, in the Lionello Bonfanti Industrial Park in Incisa Valdarno (Florence, Italy). Founded by nine associates in Febrary 2008, Risana is a cooperative begun from a dentist studio linked to the small town of Loppiano and which has formed a network of specialists in various medical disciplines since 1998. With this basis, the group practice project was consolidated and has been running since July of 2008 in a provisory headquarters.
The "Risana Group" and the "Risana Medical Studies" center are hosted in a 420 square meter structure. Doctors specialized in cardiology, physical therapy, gynecology and psychology are at work, without mentioning complementary medicine like homeopathy and acupuncture. The objective which brings these professionals together is the value of human life, which spurs them to put the person at the center of their work and enter into relationship with the patient.
The inauguration was opened with greetings from the mayor of Incisa, Fabrizio Giovannoni, who remembered how the growth of the industrial park was an opportunity for the territory and a strong push for development in the zone, and Eva Gullo, president of EdC SPA which manages the site. The microphone was then passed to Maria Teresa Fumi, president of Risana. The moment in the large hall then concluded with a round table on "Economy of Communion and Sanctity", held by professor Luigino Bruni, economist, and Dr. Marcella Gostinelli, moulder.
A visit to the various working spaces and refreshments then followed, with nearly 600 passersby from the surrounding towns. All said that they were very pleased with the services offered by Risana and of the new health offices located in the Polo Lionello. Even medical professionals gave their seal of approval. Professor Antonio Maria Pala, president of the Catholic Doctors of Florence, defined Risana as "a sign of trust in the future which comes from the hope of our faith", while Dr. Andrea Tori, provincial secretary of the Union of Out-Patient Medicine (Sumai) of Florence, affirmed that "the birth of a healthcare structure that tries to shift it´s center towards the person through technique and economic sustainability is an absolutely high bet."
Information on Risana and the Polo Lionello can be found on www.salveonlus.org and www.edicspa.com.