Xcogito, a resident EoC business of the Lionello Industrial Park, launches an interesting initiative to promote the 2010 EoC Expo
The EoC Expo Express, all together to the Industrial Park!
By Antonella Ferrucci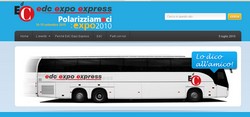 The idea is that of a web site, www.edcexpoexpress.it, which is an informational and logistical instrument for all who will participate in the Expo 2010 (September, 16-19, 2010). It is both a means of promotion, information and diffusion, all at once. Through the site, people can register to travel together in buses to the Industrial Park from various Italian cities. One can also get the latest information on details of the program and various events, and on single-day and mult-day participation, with the necessary forms and costs. The site is stylish and youthful. It has news, comments and even a nice calendar that counts down how many days are left until the 2010 Expo.
To better understand the spirit of this initiative, we asked Andrea Baldas, of Xcogito, a few questions:
Andrea, how can you explain why you started the EoC Expo Express?
Well, there are many possible reasons. First of all, the trip is a precious chance to share different experiences on the economy of communion and on civil economy in general. In the hours of the trip, it will be possible to talk to entrepreneurs, teachers, parents and students on the expectations they have about the program and topics of the Expo in an informal way. It is definitely more beautiful and enriching to travel together, to reach the Expo, and, actually, going by bus rather than by car is a choice to respect the environment.
What is the logic behind this idea?
The idea is that of creating, through the occasion of the Expo, a connection that goes from the local territory to the industrial park and back again, showing that it is possible to return to
our zones and build things together in our local areas because we are not alone. Therefore, the Expo is not like "a one-time, 3-day shot and that's it", but more like the beginning of something to build together. We want to gather requests, and based on interest, we'll organize the buses (or vans where there are fewer requests for transportation) to reach Loppiano and the Industrial Park.
The initiative started in Latina, where Andrea and his colleagues are ready to take on the organization, not only for their zone of Lazio, but also for all the Italian zones interested.
We send them our best wishes and invite all our visitors to register and travel on the www.edcexpoexpress.it!!!