Danile Cerelli participated in the first EoC Summer School last September in Rocca di Papa. He shares his experience with his friends and with us of EoC Online.
A School of Communion
Written by Danilo Cerelli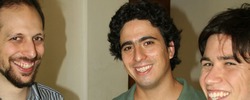 Dear friends, if I have to sum up the meaning of these days spent in Rocca di Papa, from September 3-6, I would say that, for me, more than a "school of the economy of communion", it was a "school of communion". In fact, I liked that every lesson always ended with a moment of dialogue with the "students". It was constructive, and italways opened up new prospectives. Then, the chance to talk in small groups in the evening allowed us to share about what we had lived.
Right away, I was touched by the school´s international characteristic. We came from pretty much all over the world and were people of all types: students, entrepreneurs, professors, workers from all of Europe (Italy, France, the Czech Republic, the Slovak Republic to name a few) and from various other continents (Argentina, Brazil, the Philippines).
Besides this, there were two "extra" moments that really touched me: visiting Chiara Lubich´s house and the meeting with Fernando Muraca, who spoke to us about his vocation as a film producer. It applied to the vocation of each one of us to live communion in economy and in our lives.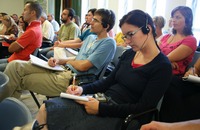 I took a ton of notes, but before everything I want to tell you what has stayed in my heart.
One thing is a quote by Professor Zamagni. Speaking about the EoC, he defined it as "the prophetic minority that shows itself during moments of crisis, like that of today". I was alsotouched by the African statue that stood in front of the speakers to remind us of the inspiring motive of the EoC: the poor ("EoC was born for the poor", as Chiara Lubich told us).
The four lessons were unforgetable: Luigino Bruni´s lesson on agapic relationships (unconditional reciprocal relationships) which are moments of grace that are lived in EoC businesses and condition how it developes (and at the same time also characterize our relationships). It touched me when he spoke about the "blessing" that comes from the "wound of the other", underlining that when there is a true relationship with our neighbor, the wound is inevitable (actually, it´s bad if it´s not there). So, if we are able to go beyond this moment, loving this wound, then there is true knowing...if we avoid the wounds, then our relationships are never true relationships. Similarly, not everything in the market can be regulated by contracts, which try to avoid the wound. Stronger relationships are also neccessary.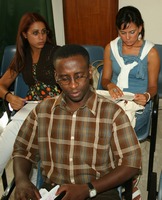 This passage was strong, as was the lesson by Alessandra Smerilli on businesses and ideal motivations. She underlined the importance of intrinsic motivation (which cannot be paid by the business, but which are born by it´s inspiring principals) as the true mover of the "collaborators" within the businesses. These are the most important people in the business because they push the others (those who are less collaborative) to collaborate as well. In the moment when businesses lose their ideal motivation, it´s actually the "collaborators" who go first, because they lose their motivation.
Giuseppe Argiolas spoke to us about a new management theory which he is developing and that will put the aspects of our spirituality and its instruments to life within an EoC business - very interesting!
What was significant for me about the last day was the experience of a Czech engineer who explained how he always deducts a certain amount from his family budget for the poor (like the EoC businesses), even with his wife and children as dependants.
I hope that I was able to share the essential part of this meeting with you. It was very inspiring for me to be able to continue to live this communion and live for the economy of communion.
Hoping to have given you a nice surprise, and always living this communion among us, I send you my greetings.