At the end of four truly intense days of the first EOC Summer School, we attempt to describe the experience 

EOC Summer School: an assessment
By Benedetto Gui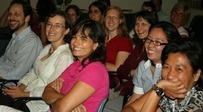 The proposal of a summer course on the Economy of Communion was launched thinking of a small group of young people, most likely scholars of various economic profession (students in doctorate programs, research fellowships, university professors at the beginning of their career). In this way, it would be possible to present and systematically discuss the theoretical reflections developed in these years around the economy of communion project.
But obviously there were many other people, including university students in their last years of study, workers, directors, entrepreneurs and teachers, who shared the desired to spend four days studying and dialoging about the EOC project. And not only people under 35. Not wanting to say no to whoever was very interested in this reflection between science and culture, we found ourselves amidst a group of 90. There were 13 from Brazil, 8 Argentineans, 2 Filipinos (some were already in Italy, like students of Sophia, but others came just for the occasion).  Then, there were also 8 from Slovakia, other Europeans,  one from Palestine and obviously many Italians. Their relationships with the Focolare Movement was also very diverse (ranging from very active to less active, and even some who were making their first contact with the movement)..
The program was intense (see program). even too much so, as we realized after the first day and thinking of all the translations. We tried to slow down the rhythm during the following days. Many of the reflections presented were part of a preview of articles that will make up a special edition of the magazine "Impresa Sociale" (Social Enterprise), a cultural magazine geared particularly towards Italian social cooperatives.
After each presentation, there was time for questions and answers, although it was never enough. The time allowed for group work was also too little (two session of a little more than an hour each).
One evening, going outside the scheduled program, we had a meeting with a film producer. He was someone who works in the artistic field (and art always has a place in any convention) and additionally he is also committed to "translating" the culture of unity into understandable terms for his speakers. What clearly and fascinatingly emerged from his words and the two short films he showed was the theme about vocation. At various moments in his career, this vocation had led him to make countercurrent choices, many times thanks to the encouragement of other people.
To mark this four-day school with a particular characteristic, the proposal was to live according to the teaching on reciprocal love. This proposal, received and taking seriously, created a fraternal and joyful atmosphere throughout the day, whether in the lecture hall, during means or in other free moments.
It was an atmosphere that cannot but characterize the memory of those days when one thinks about them and tries to give a summary. During the final exchange of impressions and the following moment of greetings, a common idea kept coming up: encouragement. Each one had received encouragement for their personal commitment to study or work in view of an "economy of communion".
Another recurring topic was the invitation to continue this initiative, making it an annual appointment aimed towards youth. "Because within a few years," said one of the youth participants, "the generation that has brought the EOC ahead until now will have to pass on the witnessing to today's 20 and 30-year-olds, and we have to be prepared for that moment, not only to prevent that what has already been done falls, but also in order to take those further steps ahead which we young people feel are necessary."