Economics, relationships and happiness
By Emilie Christy
from Living City, October 2012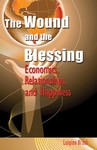 I was intrigued by the title of economist Luigino Bruni's latest book translated into English, The Wound and the Blessing. He quickly shows a strong link between the lack of human relationships in the current market economy and the lack of happiness both for individuals and the life of the community. He ponders the reality of fear in the Western world — a fear of opening up to others, of being wounded in meeting others — creating anonymous interactions that are easy to step away from or perhaps even abuse.
He sheds light on our society today, revealing how this type of market is increasingly becoming the principal means of organizing community life from schools to health care, where financial concerns often take precedence over relationships with patients and among service providers.
Bruni's invitation to enter with him into a conversation with Adam Smith, Thomas Hobbes, Niccolo Machiavelli, Martha Nussbaum, Richard Easterlin, Tibor Scitovsky, the ancient Greek philosophers, Thomas Aquinas and many others weaves an intricate argument that offers luminous insights on today's economy.
Economists have held that the more income or greater ability to consume one has, the more one's well-being will increase. However, there is a growing interest in what really brings about happiness and fulfillment. Major publications of economic theory and academic journals show that happiness comes from making others happy, that human beings need reciprocal relationships to be fulfilled.
The Wound and the Blessing is a fruit of Bruni's many years of ongoing study. He offers a new paradigm for an economic structure that portends a hopeful future not only for a healthy economy but for a healthy community and the individuals within it.
This book invites the reader to participate in building an economy that promotes happiness. Who wouldn't want to be part of this?