Cultivating virtues and relationships: the key to happiness: Economist Luigino Bruni of the Economy of Communion in Freedom visits the U.S.
By Elizabeth Garlow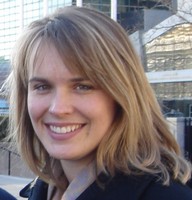 from Living City, December 2012
This past fall Dr. Luigino Bruni arrived in New York from Italy to launch his new book The Wound and the Blessing: Economics, Relationships and Happiness. On October 17-18, a mix of students, faculty and community enthusiasts assembled at Marist College and Fordham University to hear Bruni present important tenets of his book, namely the concept of "relational goods." He proposed that relationships and community bonds are tangible economic "goods" that can be measured much like the production of goods and services, arguing that shared life experiences are of incredible importance for our happiness.
Bruni's emphasis on cultivating one's inner life and virtues to ensure that the intentions underlying our economic decisions always stem from good motivations resonated with the audience. Dr. Robert Manning, who joined Bruni at Marist, seemed to agree. Manning, an acclaimed author and expert on consumer finance, presented a compelling argument on how we must remain attentive to nurturing ourselves "in relation to the whole of society."
The following day at Fordham University, Bruni joined professors Michael Baur of the Philosophy Department and Russell Pearce of the School of Law to discuss "Why Morality-Free Economic Theory Does Not Work: A Natural Law Perspective in the Wake of the Recent Financial Crisis." Bruni challenged the audience to question whether or not market and business activity could be defined in a way that is not self-interested. He believes it can. If virtues are cultivated, mutual benefit can trump self-interest in the marketplace. Among those virtues include traits like trust and trustworthiness, independence, self-reliance and responsiveness to others' preferences.
I thought about the Economy of Communion (EoC), and the ways that it is helping entrepreneurs, those in need, enthusiasts and scholars alike to express their citizenship in relationship with a larger community. As engaged citizens in a local and global community, EoC stakeholders understand that there is always an "indirect reciprocity" which relates to the good of society as a whole. While an EoC business may share profit with someone who shared a need, the local community will certainly benefit from this exchange.
Pearce spoke of the role of the lawyer in this context of social relationships. "If lawyers understand they are not autonomous actors, but exist in a web of relationships, then 'relationship-based self-interest' demands the goal of mutual advantage and reciprocity."
Thoughtful dialogue between the speakers and audience added to the audience's new or enhanced understanding of the importance of reciprocity in relationships and a virtue-saturated market.
Elizabeth Garlow serves as president of the North American Association of the Economy of Communion and directs Michigan Corps, a civic-engagement technology platform.