Cittá Nuova Publishers presents the first Italian translation of this book. It is the profile of a man who knew how to invest courageously. Destination: Brazil.
François Neveux, Entrepreneur and Inventor
By Maria Grazia Baroni
Published on  Cittanuova.it on 18/03/2010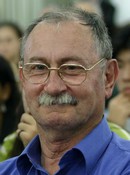 Alphonse de Lamartine, a 17th century writer, said, "Utopias are nothing but premature truth", which is difficult to avoid if one lives his existence for others, as did François Neveux.
Born in France, in 1936, he soon established himself in the entrepreneurial field and as a patent inventor (with a good 35 inventions). Up to this point, this is nothing out of the ordinary. He was a man with a shining career, like that of many businessmen if it wasn´t for the way he acted towards clients, employees and even the competition, putting the person at the center of the job.
The true turning point in his life, however, came in 1990. François had an idea. He wanted to put his inventions and economic resources at the disposition of the Brazilian people - for free. His generosity was not yet understood by those whom he turned to, but he was able to find an ideal outlet in a congress in Brazil with representatives of the Economy of Communion. 
A shed was still empty at Polo Spartaco, a complex with various businesses that proposes an alternative economy. François decided to take it and start a business. His plastic products production company ran according to a technique he had tweaked so that it was possible for the marginated class, considered economically non-productive, to carry it out.
He dedicated body and soul to this adventure for fifteen years.
The book, by Isaline Bourgenot Dutru, has been translated into Italian for the first time by Cittá Nuova. It is simple in style and original in the way it traces through the steps of this extraordinary human event, which shows how one can invest capabilities, time and capital to develop an economy with more solidarity, only because the utopia is transformed into action.