From the Czech Republic to the U.S. for the Economy of Communion
By Jakub Jurásek
from Living City, January 2012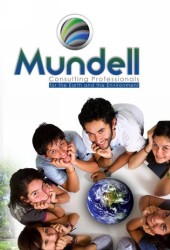 It was a Monday evening in August at Christian Park, Indianapolis, Indiana. As usual on Mondays after work, some of us from Mundell and Associates, Inc, an environmental consulting firm, met to play tennis. Normally, it was just us interns, but that day we had invited some of the company's employees to join us, and we had a lot of fun. There were four of us: Francisco, an intern from Argentina, who lived with me during those months; Andy, an American, who was new to the company; Matt, also American, a scientist and environmental specialist; and me, an intern from the Czech Republic.
I had traveled so far from my family and friends to intern at Mundell and Associates because it is one of 700 companies worldwide that operates according to the principles of the Economy of Communion in Freedom (EoC). The Focolare's innovative economic framework includes profit sharing to help the poor and fund structures, and training programs to spread a culture of giving.
Although this type of internship has only existed for a few years, the program is outstanding. Nineteen EoC companies offer internships right now, and I am one of about 30 young people from various European and American countries who have participated so far. It is like being part of something new, something that is just beginning.
Andy and I had gotten to know each other very well. He had just finished college, where he had studied to become a water geologist. When he was hired to work for the company, he hadn't made living arrangements yet. We and John Mundell, our boss and the company's owner, invited Andy to stay for a week in the boys' intern house. The first evening Francisco and I welcomed him with Czech cuisine — roast pork. Andy played some Bob Dylan songs on a guitar. That is how our friendship started.
My typical workday included a five-minute walk to work, which was great. I spent most of my time in the office in front of my computer. Together with the other interns, and sometimes in cooperation with other organizations, we worked on projects for the local community. We had meetings and training sessions. We also helped on some environmental projects.
Companies and individuals go to John Mundell because of his qualifications as an environmental project consultant. His business is based on his know-how and contacts. Besides overseeing projects and managing the enterprise, John sometimes gives speeches at different conferences. He is a busy man. In spite of all these duties, I felt that the activity that moves the company closer to the EoC ideal and extends the culture of giving is very important for John. That's what inspired me.
I greatly appreciate the relationships created during that experience. It was culturally enriching. Along with Francisco and me, there were two other interns: Mariana from Brazil and Marta from Bulgaria. Both were students at the Focolare's Sophia University Institute, located near Florence, Italy. From them I got to know much more about how Sophia aims at joining study and life in a spirit of unity.
The best cultural experiences were the dinners we all had together. One of us would make a typical meal from our countries every second Tuesday. With John and his wife Julie, and sometimes with other guests, we would talk about cultural interests. I also enjoyed getting to know the youth of the Focolare in that area. They were great company on the trips that we took to learn more about American culture.
I really appreciated the conversations I had with the Mundells. These internship opportunities came about thanks to them. They allowed us to experience how they spread the culture of giving as entrepreneurs, how they create relationships with their staff, and how they manage finances in a company that wants to put the EoC principles into practice.
We have tried to understand the meaning of the EoC so that we can bring this understanding back to our countries and share it with others.
Jakub Jurásek, 24, lives in the Czech Republic and studies corporate economy and management. There's more on the Economy of Communion in Living City (November 2011) and at edc-online.org