Today, 14 March 2012, is the fourth anniversary of Chiara Lubich's passing, the founder in 1991 of the Economy of Communion project. To remember her, we are publishing an article-letter printed in Città Nuova on 25 March 2008, never posted on the EoC site.
By Luigino Bruni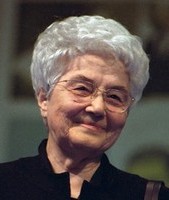 "Dear Chiara, first of all, thank you on behalf of the less advantaged, of the business people, of the workers in all of the Economy of Communion: with your intuition back in 1991, you opened up to all of us a way to happiness, to freedom and justice within ordinary economic affairs.

The economy is one of the spheres where your charism has brought more fruit. You dedicated a lot of attention, time and energy to it. You gave life to a new economy, starting from the poor, from your children that you saw in the favelas of Sau Paulo, who inspired you to live communion as a way to establish the economy, a normal way for all.
Many charisms throughout the history of the Church have produced effects in the economic sphere (Saint Benedict, Saint Francis, Ignatious of Loyola), but your charism has not only given life to important economic works, but it has also generated and continuous to generate effects within economic theory. If today we can encounter terms such as relational goods, gratuity, unconditional reciprocity, communion, agape, etc., within scientific discourse, we owe this to you who inspired, through your actions and thought, these new words into being.
Now I can tell you that in my work as a scholar, I would not have had any original ideas without my constant rapport with you, who have been my continual source of inspiration even in the strictest of scientific work. I had just turned thirty when you called me in London to ask me to come to Rome and help you give, together with other wonderful travelling companions, scientific value to the Economy of Communion. In reality, I realized right away that the value was much higher than its scientific worth, and you had given it this dignity by founding it on the love for the poor which the Gospel speaks of. These ten years of work with you in the Abba' School and in the Economy of Communion have been for me the most enthusing experience that you freely gave me, without any merit of mine, like those real life changing gifts that one does not expect nor merit.
Three things have remained imprinted within my soul and in my mind in these years with you.
The first: thanks to you, I understood what a charism is, and the role that not only your charism, but ever y authentic charism, plays in civil society and in economic life. I understood that wherever a charism is at work, there one finds real gratuity and freedom, because one's actions are motivated by an inner calling.
The second: you have taught me with your life that one cannot have any real intellectual experience if the theories and the thoughts that one understands and writes do not become part of one's life. At your school, I understood that if I wished to contribute to an economic theory of communion, the most important and difficult thing that I had to do was to become, day after day, a person of communion in every aspect of my life. Working beside you, I discovered that it is not possible to write and talk of gift, of communion, of gratuity, without being gift, communion and gratuity. You made me see that life is bigger than and precedes every concept. Only living really saves us and others.
Finally, Chiara, you made me discover the deeper meaning of wealth and poverty. You made me grasp that the most valuable good is always our relationship with God and with people, mutual love, Jesus among us: without relationships of reciprocity, no wealth can become well-being. And even when goods are scarce and threatened, mutual love never leaves anyone in need. Communion is the only way to complete happiness, a happiness that comes only when one forgets about and gives themselves for others, in reciprocity.
This is the happiness that I tried to explain also in my work as a scholar. From a charism of unity born from Jesus' cry of abandonment on the cross, a new relational economic theory is coming to life that is particularly suited for studies and to find answers (an Economy of Communion) to the new forms of poverty of today and tomorrow, emerging from solitude and lack of relationships imprinted on gratuity. And this is the logic of the charism that you revealed to us, a gift of Providence to render, in a specific historical period, the burden of living light. Your charism has given us different eyes to see the new famines and the new relational goods, enabling us to build an economy of persons and of love, a Marian economy.
The task before us is huge, you have always reminded us of this: but the take-off was wonderfully luminous, leaving me breathless. For this, and for all that you have been for me, for the economists, for the business owners, for their employees … and above all, for the least among us: thank you Chiara!