Developing a business culture in Africa
By Christine Kelly
From Living City April 2011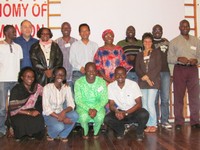 The first pan-African economy of Communion School was held in Nairobi, Kenya this past January, followed by an international conference on the EoC at the Catholic University of Eastern Africa. Young aspiring entrepreneurs from all over Africa participated in order to learn how to start businesses of communion. Experts in the EoC were present from the U.S., the Philippines and Italy. Training, reciprocity and enculturation were the fundamental pillars of the school. 
Luigino Bruni, responsible for the worldwide EoC project, outlined three basic assumptions for the school...
Today cooperation in development is done with people, not with capital. Without quality universities, no serious development can take place.
Our method is reciprocity. The ideal would be to give priority to local professors and foster mutual learning. 
Development happens with a business culture, which is missing in Africa today. Africa needs to find the way to open itself up to the market, while saving the "community" roots that are so strong in its culture. 
The Catholic University of Eastern Africa is planning a professional development course to continue the formation process that was started with the international conference. It is aimed at spreading an economic business culture for Africa and will be entrusted to a group of economists and scholars that work throughout the world developing the EoC.