Serving God and the Law at a Philippine Bank
by Gregory J.Millan
published in The Wall Street Journal on January 26, 2015 6:00 AM ET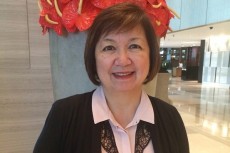 Teresa Ganzon and her husband bought a controlling interest in Bangko Kabayan Inc. in 1989, when it had only one branch, and it now ranks as one of the biggest rural banks in the Philippines. Ms. Ganzon has faced the usual array of developing country business risks, but in an unusual way, because she is also a leader in the Economy of Communion, an international network of more than 800 businesses committed to putting into practice the Catholic social doctrine behind Pope Francis's controversial comments about business and the economy. In a press conference during his recent trip to the Philippines, the Pope condemned corruption, and even spoke of kicking corrupt officials "where the sun doesn't shine." Ms. Ganzon discussed with Risk & Compliance Journal how Bangko Kabayan has grown while doing business in a manner consistent with that doctrine, in one of the world's more corrupt countries.
What are the main points of friction for a business managed in accordance with Catholic social doctrine in the Philippines?
Ms. Ganzon: Compliance is the biggest problem we talk about. For example, people excuse their noncompliance by saying we have corrupt politicians that just steal from public coffers, or we don't see commensurate benefits getting down to us as citizens so, why should we support the government with our taxes? Paying the right amount of taxes is a sign of contradiction, especially among small and medium-size companies. Bribery is rampant and unfortunately is embedded in certain government offices so that a businessman feels the only way his business can survive is to do as everyone does and simply input the bribe or grease money as a "normal cost" of doing business.
This contradicts the Catholic social doctrine and Pope Francis. How do you deal with such embedded corruption?
Ms. Ganzon: An Economy of Communion business upholds adherence to ethical standards and is conscious that it has a vocation to change the way things are done, to be more aligned with Christian values. For example, some years ago we were all set to offer a certain loan product we were sure would have a big demand and good margins, easy collection, etc. But when we faced a government bureaucrat whose signature and cooperation were indispensable to the collection process, he asked for a percentage of each collection to be paid to him. We could find no way around this obstacle and eventually, we had to think of another loan product.
Also, in the Philippines, tax compliance for enterprises big and small has been almost nonexistent. We received an award certifying us as one of the top five tax payers in a region where there are some large manufacturing firms – much larger than our bank.
You walked away from a business opportunity rather than engage in corruption?
Ms. Ganzon: Yes, but then we learned about microfinance. It addressed financing needs of a segment of society considered "unbankable" then by many formal financing institutions. We developed a microfinance program instead, and discovered we had a bigger segment to be served, albeit not as easily as that of the former, which was a simple salary loan to a government sector.
Many times over, this hard choice is presented to us. Often, we have to give up an original idea or product that might have given us good margins, just because somewhere in the process, petty bribery (or not so petty bribery!) was necessary to get the loan collateral registered. But somehow, we get more original ideas about other products where no bribery is necessary and we end up serving a sector that would otherwise have remained underserved, just because we looked harder for alternatives.
How Pope's criticism of business and the economy affected your business?
Ms. Ganzon: He talks about having more empathy for people at the bottom of society, and for us, in the microfinance area, it helps us to have greater resolve. This is very difficult business to do, because it entails a lot of field work and usually young people, when they apply for work in a bank, think they are going to be working in a very comfortable environment in an air conditioned bank branch. After six months or so they decide they don't want to do this kind of demanding fieldwork job. So for us, recruiting the correct people who will stay and love what they are doing because of empathy towards the poor is very challenging. We don't meet efficiency standards that easily and you cannot help but look at performance standards if you want to stay in business. But the Pope's message is very clear that this is a business we cannot give up on, a vital service for the poor.
(Gregory J. Millman is a senior columnist with Risk & Compliance Journal He is the author of The Vandals' Crown: How Rebel Currency Traders Overthrew the World's Central Banks, and several other books. He can be reached at +1 (212) 416-2352 or by email at This email address is being protected from spambots. You need JavaScript enabled to view it. Follow on Twitter @GregoryJMillman)