For the first time, the report includes not only the usual data on the use of profits but also the census of businesses in the world and news on the culture of communion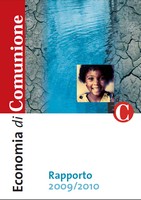 A whole year of Economy of Communion
. The data and news reported in the EoC Report go from September 2009 until August 2010. That is why it is the
"2009/2010 Report"
. In the prior two editions, in 2008 and 2009, the EoC Report gave an account of the
use of the aid
(shared business profits and private contribution) and the
projects underway to create new jobs in EoC business and support the start-up of microentreprises
.
Althought that part is still fundamental, there is much more in the 2009/2010 Report: from results of the Census of EoC businesses in the world, launched in 2009 and concluded in July, to the spreading of the culture of communion, starting with Benedict XVI's Encyclical that cites "the civil businesses and businesses of communion", and continuing with presentations, convenctions, schools... The "numeric data" is accompanied by very colorful graphics and explanations.
You can download the report here (Italian)
The English version is soon to come!