Today the "Escuela de Verano" for Latin American young entrepreneurs concludes in O'Higgins. It has been a very intense few days, a beautiful experience: true hope for the future of EoC.
Latin America: the dream comes true
By Maria Ines Silvestro
This "School of Fire" has taken place with the participation of 30 youth coming from Mexico, Costa Rica,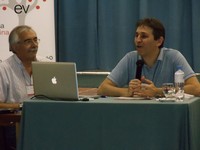 Ecuador, Peru, Bolivia, Paraguay, Chile and Argentina, as well as the generous presence of 20 collaborators, including entrepreneurs, coordinators and EoC directors from various countries.Without a doubt, this has not only been a business school of each one of us but an experience that has "changed our lives". It has also been important to be able to count on the contributions of Luca Crivelli and Benedetto Gui, representing the International EoC Commission.
The format of the school was to go deeper in economic theory on various topics, illuminated by the continuous contributions of Economy of Communion entrepreneurs who shared their experiences. Then, it couldn't be without moments of "learning games", like an IT tournament of the prisoner's dilemma, which was enthusiastically and competitively participated and very useful to begin talking about reciprocity. There were also juggling games that concluded the captivating presentations by Galo Pozo.
Gratuitousness and Reciprocity were the main focus of formation and opened the way to various topics:- the importance of charisms in building a fraternal economy- the vocation to the charism of unity in the Economy of Communion- the EoC today in the world and in Latin America- what is a business, and what are the characteristics and values of high-lending businesses.
All of this was illuminated by the encounter with suffering: wounds typical of entrepreneurs, who often understand solitude, and by the possibility to make a personal choice to accept these wounds,
to live an interior dimension in order to give new answers to society's economic life and to clarify the true vocation of the entrepreneur and a business.
We had the chance to hear about the development of Solidaridad Business Park and visit its businesses: Lumi (a cookie factory), Norma Maliandi (cosmetic products), and Primicias (agricultural products). We also visited Los Toldos, a nearby city where the founders of a canning factory, La Sagrada, shared their experience. They were moments of rich exchange which highlighted how the culture of giving not only transforms the thought of entrepreneurs but also the logic of work relationships and the lives of each of the actors in each business.
We're leaving Mariapolis Lia strengthened by the unity built during this week, and we believe that with the support and spiritual resources of each one, we'll have the strength to make this project a reality!
See the blog of the Summer School