Participants of the Summer School that concluded Friday the 21 sent a message to the Pan African EoC School that starts today
From Argentina to Kenya: passing on the witness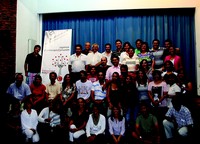 We reprint the message that the participants of the Summer School in O'Higgins wrote to the youth gathered starting today in Mariapolis Piero for the first Pan African EoC School:
Dear friends,
We wanted to be able to send you a big hug from Mariapolis Lia in Buenos Aires, Argentina, together with our wish that your experiences be as formative and productive as ours has been.
In these days, we reached a very deep unity among the participants from eight countries of Latin America, despite cultural differences that served to enrich this experience.
We're convinced that the EoC is the answer to the many problems present in the world, but especially in those countries where inequality and poverty stigmatize society.
All our wishes that you can also feel called to bring about new businesses, abandoning yourselves to into the hands of the "hidden shareholder".
There would be many other things to tell you! But wanting each one to have their own experience in the EoC, we send you our wishes that you can find the path for better future for everyone.
Fond greetings to all of you!!!
The 30 youth participants of the 1st EoC Summer School of Latin America, professors and entrepreneurs.
O'Higgins, January 22, 2011