We've interviewed Luca Crivelli and Benedetto Gui, who've just returned from the first EoC School in Argentina
EoC Escuela de Verano 2011: weighing it out
By Antonella Ferrucci
Luca, if you had to describe the sensation that you have after these days, what would you say?
I would say that I feel like related this trip to magical realism, one of the most celebrated styles of Latin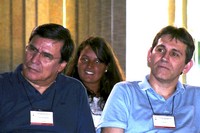 American literature, not only for the magical illusions that Galo Pozo usually used to conclude his excellent presentations on business organization. Magical realism, in which the capability of the author is reflected in making even the ordinary extraordinary, we remember the meaning of a charism: it's a gift of new eyes which make us see things that others don't see. Magical realism reminds us of when Mary said "they have no more wine" at the wedding of Cana and Jesus produced the surplus, in quantity and quality of the wine. It was his first miracle. It wasn't by chance that this was the passage of the Gospel that I heard in this chapel in Malpensa before heading off for Argentina, and it's an idea that has constantly stayed with me during these days.
What can you tell us about this week spent in Argentina?
It was full of life, poured out in that full and packed measure that the Gospel promises to those who accept to give (and especially give themselves) to Love, "who asks all and gives all". According to me, the format of the school was innovative. All economics...and yet all Gospel. We talked about being EoC entrepreneurs, and we discovered that this vocation has an important spiritual dimension. We asked ourselves about things like on what basis does an EoC entrepreneur produce "high performance", and we saw the youth making very radical life choices. "Thank you for changing my life" , said a Bolivian girl at the end of her comments to all. It was the first time she had been in touch with the economy of communion, and her words summarized the feelings expressed by many in their final impressions.
What were best parts of this school?
I would say the unity between the proposal and the methodology. There was no rupture between spiritual moments, theoretical reflections and practical examples, between life and thought, between exposition and dialogue. We used both the cognitive and affective spheres, we listened and saw. The communion was continuous, and it was very important that everyday there were two different entrepreneurs who shared about their life and answered the young people's questions with their experiences. Plus, during this school, we were able to move as a "collective agent". Many of us had never seen each other before, and yet, while interpreting what was like a piece of jazz music, with just a loosely defined score, what came about was a truly harmonious concert. We were almost like a band that had already worked closely for a many concerts. Rather than being over worried about each one's own part of the program, we were focused on interweaving a common thread throughout the program, making useful references to what was said before by others.
How were the working groups organized?
The working groups were called "businesses" (each one made of 6 or 7 youth and an experienced
entrepreneur). Each day, there was a moment of group work, to prepare questions and others to dialogue with a guest during lunch (rotating between Benedetto Gui, Galo Pozo, Ramon Cervino, German Jorge and myself). The visit to the Solidaridad Business Park was significant and didactic. Each group analyzed a different point of view, and the next day in the plenary session gave the results of its analysis. Some very interesting point emerged from this study: the youth are really intelligent (they know how to read between the lines).
It all seems "too perfect" to be real...
Actually, during the last two days, after being enchanted at the beginning, another aspect revealed itself to me - one that was just as real as the first. I saw firsthand how all of these fruits had been abundantly paid for. How many sufferings, misunderstandings, feelings of solitude were hidden in the lives of these entrepreneurs. There were also many tribulations that need to be dried. It is not easy to maintain good relationships when people have strong characters and feel so full of inner life that what's to be expressed. This is the challenge: not mortifying each one's daemon, but being able to overcome misunderstandings, rivalry and worlds that life's battle always produces (including in economics). On the last day, while presenting Luigino Bruni's book, "The Wound of the Other" which was recently translated into Spanish, I felt that I had to focus less on the historical and cultural side of the book and more on its universal message surrounding the typical expressions of suffering that being in relationship with others can produce (especially with those who are closer, who work next to us to bring about an economy of communion). Ramon Cervino read a touching letter by Mario Breccia, and the experiences shared by the entrepreneurs in the afternoon clarified definitively that many of the wounds that mark an entrepreneur's life persist over time. However, these wounds are a vortex of life from which all-satisfying water may pour, if they are accepted and loved.
And you Benedetto, what can you add?
To say that the school went well would be an understatement. Of course, it had the best conditions, a wonderful group of people truly decided in their choice to make economics a place of communion and ready to give themselves for this goal. Then, there were a few who knew little of the EoC but thought it was worth the time and money to know more. Even the weather contributed, because it rained a lot on the first day, lowering the temperature from 40 the day before to little more than 20 degree Celsius, with a beautiful, clear sun, and a little less at night (which a full moon and the constellations like the Southern Cross). It was an ideal situation that lasted the whole week. But the fact that the results were what we saw is never something taken for granted. Already in the first round of presentations on Sunday evening, the school was very promising. The contents, which spoke of a lifestyle which then corresponded to how we spent time together in those days and seeing the radicality (especially of a few of the experiences) did their part. But the
contagious spread of a simple, warm, high, fraternal interpersonal atmosphere is always a small miracle. When we had to say goodbye, more than one of the participants spoke of "a week that changed my life", or said that they would have liked to be able to stay there. Some said that they wanted to spend their lives to bring fraternity into economics and not with other goals, or that they could no longer go back to making their own economic choices in another way. Someone spoke of the commitment to start businesses of communion as a true vocation.
A final comment?
I think that the winning choice of turning to the youth and dedicating your attention and time to them (more than one of them thanked us for dedicating a whole week to this school, morning to night, and going along with South American hours, even beyond that). Without youth, there is no future, including for the Economy of Communion.