From September 11 – 15, 2012, in Portugal, the First European EoC Summer School
by Iolanda Tovar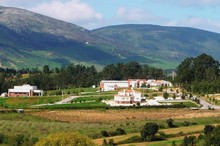 "Towards a Bridging Economy" " will be the title and the leitmotiv for the first European EoC Summer School, to be held from September 11 – 15, 2012,  at Mariapolis Arco-Íris, near Lisbon (Portugal).
All students and young entrepreneurs (from 19 - 32 years of age) from all over Europe are invited. The school is organized by the International and Portuguese Commission of the EoC, in collaboration with the Catholic University of Oporto in Portugal. It will be held in English.
Topics include: poverty, development, reciprocity, gratuitousness, work, entrepreneurship in the light of the new paradigm emerging from the EoC.
Through lessons and workshops, the program aims to create "bridges" between "ideas" and "facts", which means between theory and routine procedure in the life of businesses.


The teachers will include Luigino Bruni (Istituto Universitario Sophia e Università degli Studi di Milano-Bicocca - Italia), Luca Crivelli (University of italian Switzerland of Lugano - Switzerland), Teresa Ganzon (Bankgo Kabajan, Manila - Philipines), Américo Mendes (Catholic University of Oporto - Portugal) e John Mundell (Mundell & Associates, Inc, Indianapolis - USA). Local EoC entrepreneurs will also be present to express the ideas that they concretely apply in operating their own businesses.
Soon a more detailed program will be published
For more informations:  Diese E-Mail-Adresse ist vor Spambots geschützt! Zur Anzeige muss JavaScript eingeschaltet sein! - tel. 00351 964107303